Do a little window shopping and check out the sneakers in the web stores.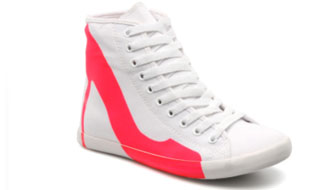 You wake up and think: sporty or girly? You don't have to choose! These Be&D Big City sneakers provide the solution... plus they are sooo cute.
Je wordt 's ochtends wakker en je denkt: sportief of girly? Je hoeft niet te kiezen! Deze Be&D Big City sneakers zijn de oplossing...plus ze zijn zooo cute.
€129
Show me in a web store | Laat maar zien in een webshop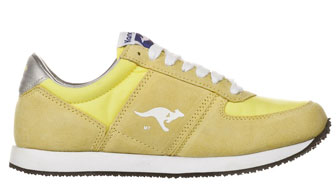 A long, long time ago these Kangaroos Combats were a big fashion item. If you couldn't buy them back then, because you didn't have enough pocket money. This is the time! They come in serious yellow, pink, blue, red, and turquois.
Heel, heel lang geleden waren deze Kangaroos Combats je-van-het. Kon je ze toen niet betalen, omdat je te weinig zakgeld kreeg? Dan is dit het moment! Ze zijn te koop in felgeel, roze, blauw, rood en turquoise.
€79,95
Show me in a web store | Laat maar zien in een webshop
The Nikes Air Max truly rock! While walking, running or just sitting still being pretty these groove sneakers will make you smile. You can customize them online in the Nike iD store. Pick any colour for all elements.
€175
Show me in a web store | Laat maar zien in een webshop